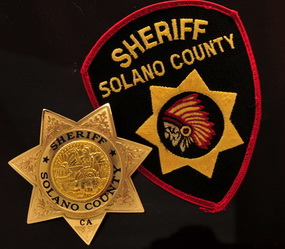 General Information about Jobs with the Sheriff's Office
COUNTY OF SOLANO
There are seven cities within Solano County - Benicia, Dixon, Fairfield (county seat), Rio Vista, Suisun City, Vacaville, and Vallejo. Solano County's location makes rural and suburban living possible. Take a 50-minute drive and all the cultural advantages of the San Francisco Bay area and Sacramento are within easy reach. To the east is the Sierra Nevada, to the west the Napa Valley wine country and the Pacific Ocean. There are nearby lakes that offer a wide variety of recreational opportunities. In addition, there are fine educational institutions within easy commuting, including UC Berkeley, UC Davis and CSU Sacramento. Locally, there is our own Solano Community College. Established in 1850, Solano County was one of the original 27 counties of California. Two of the County's seven cities, Benicia and Vallejo, served as the state's capital in the early 1850's. Solano County covers 861 square miles with a population of over 420,000.
OFFICE OF THE SHERIFF/CORONER
The Office of Sheriff is one of antiquity and the oldest law enforcement office known within the common law system. The Office of the Sheriff has always been accorded great dignity and trust. The Office of the Sheriff, in California, is a state constitutional office headed by an elected Sheriff in each county. The Solano County Sheriff is responsible for providing public safety services in the county including patrol, investigations, custody of adult offenders and Coroner services. The Sheriff's Office also provides a variety of support services including maintenance of criminal records and dispatch of public safety personnel. The Sheriff's Office is divided into three major divisions Public Safety, Administration and Custody. These divisions work in close partnership with each other to provide a high level of service to the citizens of Solano County. The Solano County Sheriff's Office has an operating budget of $80 million and employs over 500 people including 116 sworn law enforcement professionals. The Solano County Sheriff's Office is a forward-thinking, proactive agency that strives to create partnerships with the community, as well as other government and law enforcement agencies in order the serve the needs of its citizens.
CAREER OPPORTUNITIES
There are wide ranging career opportunities within the Sheriff's Office. In addition to specialty Deputy Sheriff positions including SWAT, Marine Patrol, Criminal & Coroner Investigations, Canine, Narcotics Enforcement, Court Services, Bicycle Enforcement, Crowd Control Team and the service of civil process the department is staffed by an outstanding network of Correctional Officers, Sheriff Service Technicians, Public Safety Dispatchers, Evidence Technicians, Legal Procedures Clerks and administrative staff.
COMPENSATION AND BENEFITS
The County of Solano offers competitive salary and benefit packages including the following benefits:
PERS Retirement Plans
Health, Dental and Vision coverage
Life Insurance
Educational incentives
Paid Vacation, Holiday and Sick Leave
457 Deferred Compensation Programs
Flexible spending accounts
Employee assistance program
For detailed information about the salary range, benefits, minimum qualifications and selection process for the position is which you are interested, please
click here
.
SELECTION PROCESS
Upon submittal of an application, and if the candidate meets the minimum qualifications, the phases are as follows:
WRITTEN EXAMINATION
Certain classifications may require successful completion of a written examination. The written examination generally consists of questions, which cover Reading Comprehension, Vocabulary, and Problem Solving/Reasoning Ability. Candidates successfully completing the written portion of the exam then move to the next step in the process.
PHYSICAL ABILITIES TEST
The Physical Ability test is conducted for Deputy Sheriff (entry/trainee) and is a pass/fail and involving a series of exercises that demonstrate endurance, flexibility and strength. The three-part Physical Ability Test consists of the following:
1.5 mile run in seventeen (17) minutes or less.
Twenty-five (25) bent knee sit-ups (crunches) in one minute or less.
Seventeen (17) pushups in one minute or less.
ORAL INTERVIEW
Candidates successfully completing the written and/or Physical Ability portion of the examination process will be scheduled for an oral interview which will evaluate job-related factors. Board Members will rank candidates based on their responses, demeanor, and communication ability.
QUALITIES THE SHERIFF'S OFFICE IS SEEKING IN CANDIDATES
*  Integrity  *   Honesty  *  Dependability/Stability  *  Maturity  *
*  Ability to function within a strict set of rules & regulations  *
*  Ability to work without constant supervision  *  Self Control  *
*  Good Judgment  *  Ability to communicate in a clear, understandable manner  *
*  Common Sense  *  Self-confidence  *  Assertiveness  *  Motivation  *

*  Enthusiasm  *  Self-initiative  *  Flexibility/Adaptability  *

*  Ability to form a good impression  *  "Team Player"  *
BACKGROUND INVESTIGATION
Determines the candidate's suitability for employment with the Solano County Sheriff's Office. As part of the Background Investigation, all candidates will be required to undergo a truth verification examination. A Computer Voice Stress Analyzer will be used to verify accuracy of information regarding the use of controlled substances; driving, criminal, employment history, and other job related factors.
PSYCHOLOGICAL, MEDICAL EXAMINATION AND PRE-EMPLOYMENT DRUG SCREENING
Certain classifications may require successful completion of a Psychological and/or Medical Examination. The Psychological evaluation includes a written examination and personal interview with a licensed psychologist. The Medical examination is an evaluation of any medical condition(s) that may prevent an employee from performing his/her duties.
HOW TO APPLY
Candidates must complete the application online at www.SolanoCounty.com, click on the "Job" link.
Click Here
Applications must be completed and submitted by the FINAL FILING DATE.
For further information about your application, you may contact Human Resources county job line (Toll Free): (888) 321-6174 (Local): (707) 784-6174
For further information regarding the selection process, you may contact the Sheriff's Office Personnel Bureau. (707) 784 -7227