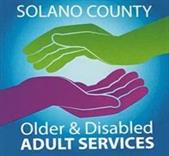 Programs
Adult Protective Services (APS)
In-Home Supportive Services (IHSS)
Public Authority
Public Guardian
Napa/Solano Area Agency on Aging
General Information
In the Solano County Health and Social Services Department, Older and Disabled Adult Services (ODAS) is an interdisciplinary approach to providing services. Clients/recipients are the elderly, age 65 and older, and dependent or disabled adults or children, 0 to 64 years old. Staff includes social workers, public health nurses, mental health clinicians, deputy public guardians/administrators/conservators, conservatorship investigator, support staff, supervisors, managers, and administrators. Spanish and Tagalog speaking staff are available in some programs to assist. Translation services are available for all languages.
Mission Statement
It is the mission of Older and Disabled Adult Services to provide access to services and resources that sustain health and well-being, support independent lifestyles, and promote physical safety and emotional security for older and disabled adults and children in Solano County.
Adult Protective Services (APS)
APS is responsible for the investigation of reports of abuse to elders and dependent adults when the abuse occurs outside of long term care facilities. Dependent Adult means someone 18-59 years old who is vulnerable to abuse for a variety of reasons such as developmental disabilities, mental illness, physical limitations or medical issues. Types of abuse include physical, sexual, abandonment, isolation, financial, neglect, self-neglect and mental suffering.


In-Home Supportive Services (IHSS)
This State mandated program provides low income elderly and disabled adults assistance in their own homes to avoid out of home care. A social worker provides initial home visit, limited case management, an annual home visit, and consultation with medical providers, family members and other support systems.  A set number of hours is authorized each month for in home assistance with some domestic and personal care tasks according to need. Some recipients must pay a Medi-Cal share of cost. Caregiver payment and hours authorized may vary year to year according to State regulations and service needs.


Public Authority for IHSS
The Public Authority is a government agency created to work in partnership with Solano County's In-Home Supportive Services. The Public Authority works closely with IHSS providers and recipients. It maintains a registry of caregivers.

Public Guardian
The Public Guardian's Office provides personal and financial services to individuals who are not capable of managing their own affairs. The Public Guardian/Conservator is appointed through the court process for conservatorship and guardianship. The Office also serves as Public Administrator for Solano County residents who die without provisions for someone to handle their estate.


The Napa/Solano Area Agency on Aging 
N/S AAA advocates for seniors and disabled adults, seeking to enhance the quality of life, health, independence and dignity of this community in Napa and Solano areas. The N/S AAA receives federal and state funding to distribute to local service providers in the following areas: information and assistance, transportation, nutrition, family caregiver support; legal assistance, case management, and fall prevention.