Solano County Behavioral Health hosts a dynamic internship program for Master's level clinical students and Doctoral psychology students.
If you have any questions about the program, please contact our Internship Coordinator at [email protected].

Program Overview
Led by Behavioral Health Chief Deputy Director, Emery Cowan, LPCC, Solano County Behavioral Health assists over 5,500 children, youth, and adults each year who are experiencing a psychiatric crisis or who have significant mental health and/or substance use challenges. Solano County provides a wide array of options for direct therapy experiences due to the diverse programs and communities served. There are options to work with children, families and adults through the outpatient programs. Solano County is one of the 5 most diverse counties in the country with a goal to diversify the workforce to meet these populations needs.
With internship opportunities funded by Mental Health Services Act, Solano County Behavioral Health will provide internship opportunities and stipends to students completing Master's level programs and Pre- and Post Doctoral Interns in the fields of Health Services Psychology, counseling, and social work. Stipends will be awarded to students providing services to the unserved/underserved communities in the County. The interns will be placed in County operated programs and will be provided clinical supervision and support. The Internship Program Coordinator will focus on bilingual/bicultural recruitment with the goal of building an ongoing relationship with institutions of higher learning to build a culturally and linguistically competent workforce.
Solano County Behavioral Health is active with many transformational teams and committees to improve cultural humility and equity, move towards a trauma informed and trauma healing environment focusing on wellness and recovery for both consumers and staff.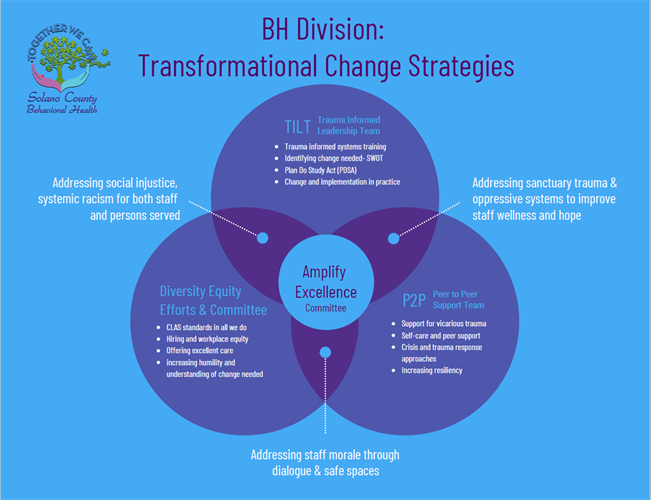 Our Mission 
To serve our diverse community impacted by mental health and substance use challenges in holistic ways that reinforces hope, wellness, and empowerment to live a fulfilling life. 
Our  Vision
To provide quality, innovative, culturally responsive care that supports and honors each persons' authentic self and unique journey to recovery
Our Values
Hope
Resilience & Recovery
Voice & Choice
Community Inclusion
Diversity, Equity, Justice
There will be no disparities for individuals or groups of individuals in accessibility, availability, or quality of mental health services provided.
Master's Level Clinical Internship (ASW, APCC, AMFT)


In line with the mission of Solano County Behavioral Health, the student will have varied opportunities to provide counseling services within our diverse and growing community. With the values of hope, empowerment, resilience, Master's students will receive extensive training and support to find proficiency in assessment, treatment and best practice services for children, youth or adults who experience serious mental health and co-occurring substance use challenges. There are different opportunities to fit your interests including office and community-based services, serving specialty populations like people exiting jails, homeless, foster care youth, families, and others, Master's students can gain extensive experience in a variety of systems. Our Master's Level Internship prepares future practitioners on cultural humility, trauma informed care, and evidence-based practices to offer the most appropriate interventions.
Requirements
Meeting the criteria outlined by the Board of Behavioral Sciences and an individual's educational institution, Solano County Health and Social Services provides a 9-12 month practicum placement for students who have met their requirements for field placements from the disciplines of Social Work, Marriage and Family Therapy and Professional Counseling. The practicum placement includes vacation and all county established holidays.
Who is eligible for internships?
Students from Social Work, MFT, and Clinical Counseling Programs who have completed their field placement commitments.
Ability to commit 16 hours minimum per week, traditional Monday through Friday work week
Expectations
The people and community we serve are our priority. It is important that the individuals providing them services are educated with the current most effective assessment and treatment, in addition to the knowledge of client care.
Our training program prioritizes training, hands-on experiences, supervision and an environment of teamwork and collaboration. The individuals chosen to join our training program are expected to be dedicated, open-minded, curious, team oriented, humble and prepared to manage a variety of experiences. Cultural Humility and education related to diversity and equity are priority. Comfort with people challenged by serious mental health issues is a must. Some skills in navigating and attending to crisis situations is also highly important in this placement. Ability and flexibility to navigate different treatment environments in the community, jails, and other non-traditional spaces is required.
Trainings available:


Medi-Cal documentation
Assessment
Client Focused Treatment Planning
Crisis Response
Trauma Informed Systems
Diagnosis and Treatment
Diversity and Equity
Evidenced Based Treatment
Wellness and Recovery
Stages of Change
Group Treatment
Application Process

Please complete the Internship Application by clicking the link below. You may contact [email protected] with any questions or concerns regarding the application process. Interns will be contacted for informal interview and scheduled for formal interview if there is a mutual match of interests and qualifications. Please allow time for collaboration with your school, background checks and finger-printing.

Application


Health Services Psychology Training Program - APPIC Membership 2023

All potential interns are highly encouraged to download and review our Health Services Psychology Internship Program Brochure by clicking here.

Components of the Health Service Psychology Internship Program

Solano County Behavioral Health is an active APPIC member. Christina Urrea, Psy.D orchestrates the program to support learning and training within Solano County's Behavioral Health Division. Interns will complete 2000 hours over a one-year (52 week) time period working 40-44 hours per week. This includes a two-week vacation/sick, all county holidays, dissertation time and a $50,000 stipend. There are two full-time Intern positions open annually.

Application and interview process: Students interested in applying to program must follow APPIC match policies APPIC Match Dates. Applications are due by November 17, 2023 for ew.

In the cover letter please include top interests such as population, treatment modality, theoretical perspective in addition to what interests brought you to apply to Solano County Behavioral Health. We ask that a redacted psychological report is also provided.

Additional qualifications for placement at Solano County Behavioral Health include clearing fingerprints- LIVESCAN. All applications will be evaluated to meet the qualifications for placement at our site. Phone interviews will be conducted with those that meet educational and experiential qualifications. Those who are not chosen for interview will receive an email notification. Prospective Interns will be invited for both group and individual interviews including two written vignettes. Pending COVID protocol this may be in person or virtual. 
________________
Health Service Psychology internship - APPIC Membership 2023
This internship site agrees to abide by the APPIC policy that no person at this training facility will solicit, accept, or use any ranking-related information from any intern applicant.