Hazardous Weather Conditions

Last updated: 01/03/22
Click here
 to check the current weather forecast and view active watches/warnings. 
Go to,
www.ready.gov/winter-weather
 to learn ways to protect yourself from winter weather.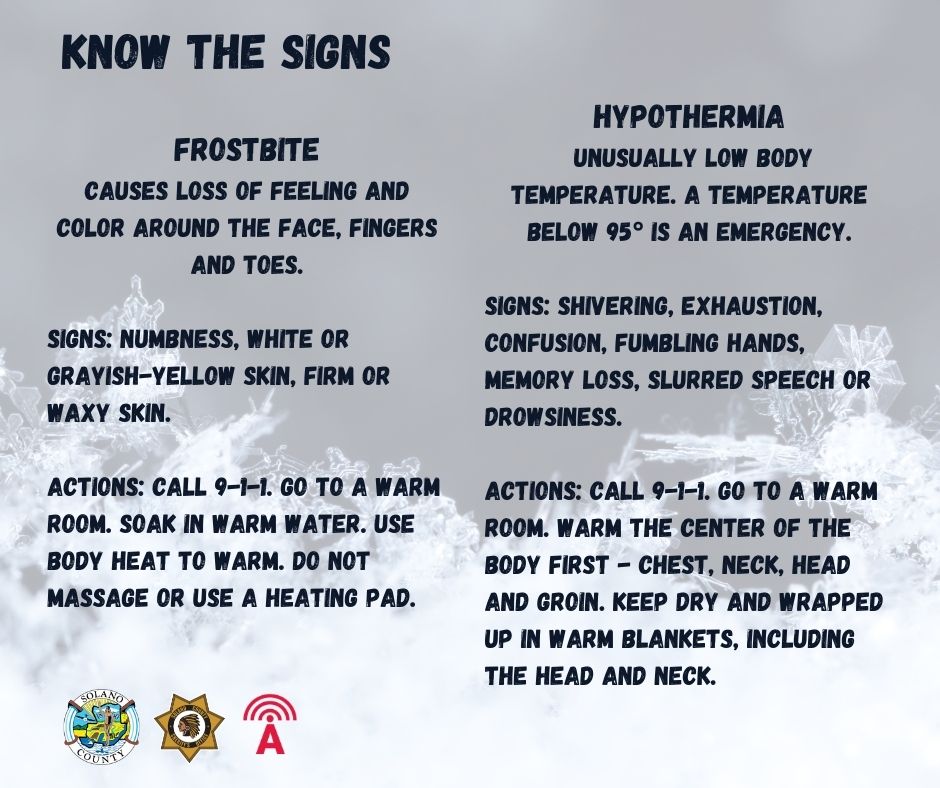 Know the signs of, and basic treatments for, frostbite and hypothermia. Frostbite
causes loss of feeling and color around the face, fingers, and toes. 
    Signs:
Numbness, white or grayish-yellow skin, firm or waxy skin. 
    Actions:
Call 9-1-1. Go to a warm room. Soak in warm water. Use body heat to warm. 
    Do not massage or use a heating pad.  
Hypothermia
is an unusually low body temperature. A temperature below 95° is an emergency. 
    Signs:
Shivering, exhaustion, confusion, fumbling hands, memory loss, slurred speech or drowsiness. 
    Actions:
Call 9-1-1. Go to a warm room. Warm the center of the body first - chest, neck, head, and groin. 
    Keep dry and wrapped up in warm blankets, including the head and neck.

Drought

Solano County is currently experiencing an Exceptional Drought. Click here 
to view current conditions. 
"...California is experiencing a severe drought. While local water utilities expect to be able to meet water needs this year, it's important for everyone to do their part to conserve water to stretch our supplies should drought continue into 2022." - Solano County Water Agency (SCWA)
Click here
 for information on
Dry Well Reporting
and
Grant Programs/Funding Opportunities
for impacted residents/businesses.