Veterans Crisis Line has a new number—Dial 988 then Press 1
 The VA administers the Veterans Crisis Line (VCL) through the National Suicide Prevention Lifeline (Lifeline) national network. Veterans currently reach the VCL by calling the 10-digit Lifeline phone number, 800-273-8255, and then pressing 1 to be connected to responders trained to understand the unique needs and challenges of Veterans.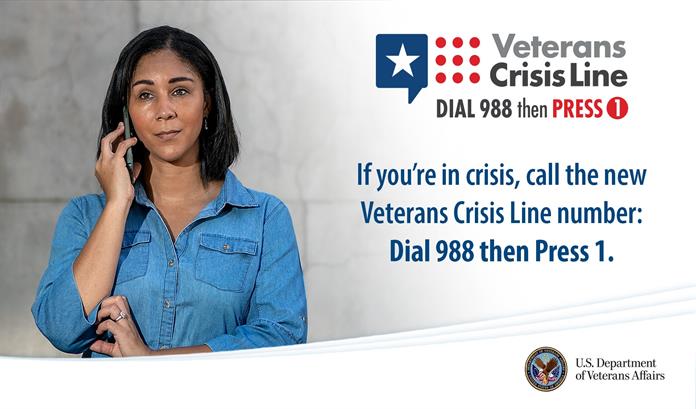 The National Suicide Hotline Designation Act, signed into law in 2020, authorized 988 as the new three-digit number for the Lifeline. All telephone service providers in the U.S. must activate 988 no later than July 16, 2022. Once a Veteran's telephone service provider makes 988 available, Veterans will be able to reach the VCL by dialing 988 and then dialing 1.


The latest news from the VA!


Solano County Veterans Discount ID Card

The Solano County Veterans Services Office offers veterans a Veterans Discount ID Card that easily identifies veterans to merchants who offer discounts or special promotions to veterans.  Bring a copy of your DD Form 214 to the Veteran Services Office on the second floor of the County Administration Center, 675 Texas St. in Fairfield.  Click here for a list of merchants who offer veteran discounts.


Did you know that some veterans can shop at the Travis AFB Commissary?!?!

If you're a Veteran or service member, one of these must be true. You:
Have a service-connected disability rating and were honorably discharged, or
Are retired from military service, or
Are a former prisoner of war, or
Are a member of the Reserves, or
Have received a Purple Heart or the Medal of Honor

If you're a family member, one of these must describe you. You're the:
Surviving spouse of a service member (if you haven't remarried), or
Primary family caregiver of an eligible Veteran (recognized under the Program of Comprehensive Assistance for Family Caregivers), or
Dependent or survivor of an eligible service member, or
Dependent of an eligible member of the Reserves
Overseas commissary privileges vary from country to country.






Veterans Events & Meetings
This information is provided by the Solano County Military and Veterans Affairs Committee. To get items listed on Upcoming Veterans Events, email details to: [email protected] The Solano County Military & Veterans Affairs Committee meets on an as needed basis to address matters of concern to the veteran and military communities. If you have an issue that you would like to bring to the attentin of the Committee, please contact the Veterans Service Officer at 784-6590.
EVENTS



Check back often for future events 

MEETINGS
Benicia Memorial Veterans Hall
1150 First St., Benicia 94510


American Legion Post 101 meets the second Wednesday of every month.
VFW Post 3928 and it's Ladies Auxilliary meet the first Wednesday of every Month with a pot-luck dinner starting at 6:00 P.M. followed by the meeting at 7:00 P.M.
For additional information contact: VFW Post 3928 Commander - Ernest Gutierrez Ernie Gutierrez.
American Legion Post 101 Commander - Leroy Miller Leroy Miller.
Dixon Memorial Veterans Hall
231 North First St., Dixon 95620
Additional details and events: Dixon Veterans or call 678-6308.


American Legion Post 208 and Auxiliary Unit 208 meet 1st Wednesday of the month, 7 p.m.
VFW Post 8151 meets 3rd Thursday of the month, 7:30 p.m.
Fairfield-Suisun Memorial Veterans Hall
427 Main St., Suisun City 94585
Additional details and events, call 429-3110 or email Suisun Veterans.
American Legion Post 182 meets at the Suisun Memorial Veterans Building at 427 Main Street, Suisun City, CA.
Our Post meetings are held every third Thursday.
Fellowship begins at 5:30 p.m. and the meeting begins at 6:30 p.m. every month except December.
There is plenty of nearby parking.
For additional information contact Richard Bluhm, Reams Post 182 Commander at [email protected]

Rio Vista Memorial Veterans Hall
610 St. Francis Way, Rio Vista 94571


VFW Post 11389 meets 2nd Tuesday of month, 7 p.m. Additional details and events, call VFW Post 11389 at 374-6682.
American Legion Post 178 - information not available.
Vacaville Memorial Veterans Hall
549 Merchant St., Vacaville 95688
Additional details and events: Call 447-6354 or go to Vacaville Veterans


American Legion Post 165 meets 1st Tuesday of the month, 7:30 p.m.
American Legion Auxiliary 165 meets the 1st Monday of the month, 2 p.m.
DAV Chapter 84 and its Auxiliary meet the 3rd Saturday of the month, 10 a.m.
AMVETS Post 1776 meets the 3rd Monday of the month, 7 p.m.
Brotherhood of Vietnam Vets meets the 3rd Saturday of the month, 6 p.m.
VFW Post 7244 meets the 2nd Tuesday of the month, 7:30 p.m.
United Veterans Memorial Association meets the 3rd Tuesday of the month, 7:30 p.m.
Blue Star Mothers of America, Chapter 11, Vintage Valley Blue Star Moms. Meetings are the 2ndTuesday of each month at 7:00 PM at the Orchard Baptist Church, 301 North Orchard, Vacaville, CA.  For more information visit http://www.solanobluestarmoms.org/home
 
Vallejo Memorial Veterans Hall
420 Adm. Callaghan Lane, Vallejo 94591
Mare Island Base, SubVets Inc. meets 3rd Saturday of Month, 11 a.m.
VFW Post 1123 meets 1st and 3rd Mondays
American Legion Post 550 meets 1st and 3rd Wednesday
American Legion Post 603 meets 2nd Friday
Disabled American Veterans Chapter 21 and its Auxiliary meet at 10 a.m. on the 4th Saturday of the month.
Military Order of the Purple Heart, Chapter 95, meets the 1st Tuesday of every month at 7:00 p.m.
Travis AFB

NAUS, Pacific Gateway Chapter 4
Additional details and events, call 422-5042 or go to NAUS.

Meets 1st Saturday of the month, 10 a.m., Family Support Center, Travis AFB
Military Officers Association of America

Solano County Chapter meets 4th Thursday of month (except July & August) for lunch and/or dinner (varies), Travis Conference Center, Travis AFB. For Information Contact: Lt Col Herm Wilson, USAF, Ret 707.422.4780 or e-mail

[email protected]

Legislative contact: LT Ken Barden, USNR, RET 707.552.3253 or e-mail

[email protected]
Air Force Association
Additional details and events, call 422-6279 or email Air Force Association.

Chapter 113 meets 3rd Friday of the month, noon, Delta Breeze Club, Travis AFB