---
BEWARE OF EBT SCAMS

Solano County and the state would NEVER text you, call you,
or visit your home requesting personal information such as your EBT card number or your personal identification number (PIN). Watch the video below.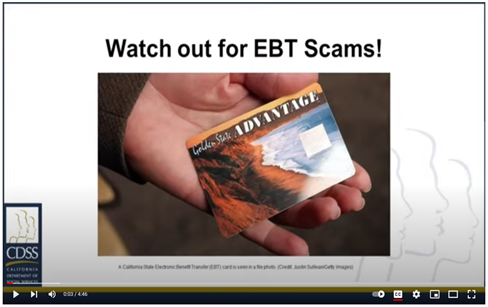 ---
WARNING
There has been an increase in attempts to steal information and benefits using phony websites, phone calls, and texts.

To reduce the risk of having private information stolen, please ensure that you are only using  links from trusted sites such as BenefitsCal.com or http://www.solanocounty.com/. For EBT account information, you can reach out directly to the state's official EBT site (http://www.ebt.ca.gov/) or call,  1-877-328-9677.

Official sites will not ask for your personal information. Please do not use other search engines, third-party apps, or non-trusted sites.

If you think you are a victim of electronic theft of your Electronic Benefit Transfer (EBT) benefits, call the toll free California EBT Customer Service number.

EBT Customer Service is open 24 hours a day, 7 days a week: 1-877-328-9677
TTY: 1-800-735-2929 (Telecommunications Relay Service for Hearing/Speech Impaired)


---
KEEP YOUR EBT CARD AND BENEFITS SAFE
•  DO NOT use ATMs that appear to have been altered.
 
•  DO NOT use ATMs with unusual signage, such as a command to enter your PIN twice to 
   complete a transaction.
 
•  NEVER write your PIN on your card, the card sleeve or on anything you keep with your
   card.
 
•  DO NOT keep your card and PIN together.
 
•  If someone takes your card and knows your PIN, they can use your benefits! If benefits
   are withdrawn by someone else before you call Customer Service, YOUR BENEFITS MIGHT
   NOT BE REPLACED. Call Customer Service immediately at (877) 328-9677 to cancel
   your card.


---






The pandemic has made it harder to feed the whole family. Pandemic EBT (or P-EBT) is a federal program that gives eligible families food benefits to replace meals lost at childcare or school because of the pandemic. This is available for school age children and children under 6 years old who meet certain requirements. Families do not need to apply for this benefit and a P-EBT card will be mailed to each child in the home.

Visit P-EBT webpage to find the latest program updates, program information, and answers to FAQ's.

P-EBT Helpline:
The P-EBT helpline is available from Monday through Friday from 6 a.m. to 8 p.m. at (877) 328-9677.


---


Click on the icons below to access your EBT card information or to see a map of the stores near you that will accept your card.
If your EBT card is Lost, Stolen, or Damaged please call customer service right away at (877) 328-9677.
Once you report a problem with your EBT card, your card will be disabled and you will be given instructions on how to get a new card. If your EBT card is damaged and no longer works, you should request a replacement card as soon as possible. If someone else uses your card and personal identification number (PIN), your benefits might not be replaceable.
                            
EBT (Electronic Benefit Transfer) Guide

Guía de EBT (Tarjeta de Transferencia Electrónica de Beneficios)