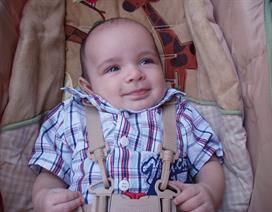 Raising a happy and healthy child is the most challenging thing you will ever do. Planning ahead - even before your baby is born - will help prepare you for the many challenges ahead. Whether you are a parent, caregiver, or an early educator, First 5 Solano provides a range of resources and detailed information to help you raise your child from the moment you hear your baby's first heart beat.
In addition to physical health including oral health, nutrition and regular check-ups with their pediatrician, all children benefit from early developmental screenings. 
According to the American Academy of Pediatrics (AAP), each child should have developmental screening and surveillance to identify children who may have developmental delays or disabilities-- such as hearing, language, communication skills, crawling and walking, and appropriate social/emotional behaviors. A pediatrician uses developmental surveillance at every well child exam, beginning at birth. With proper interventions, the impact of many problems can be greatly reduced or eliminated.
The Partnership for early access for kids or PEAK is a Solano county wide collaborative for infants, children, parents, caregivers and providers to help identify developmental and social emotional concerns early and to link children with services to help them be ready to learn when they reach kindergarten.
The PEAK concept was conceived by a Solano County-wide collaborative of over 60 public and private agencies working with children prenatal through age five. The project is funded by a joint grant from First 5 Solano and Solano County Health and Social Services, Mental Health Services Act (Prop 63) Prevention and Early Intervention funding. By pooling funding streams, services are expanded to reach more high risk children and their families through a variety of agencies and service strategies.
The PEAK collaborative includes two lead agencies (Children's Nurturing Project and EMQ-FamiliesFirst), three funded partner agencies (Child Start, Inc., Solano Family & Children's Services and Dixon Family Services), and five subcontractors. In addition, the collaborative includes multiple service partners and in-kind supporters, all of which are integral to the overall success of this unique system-wide redesign.
More information is available on the PEAK website and developmental screenings can be requested by calling 707-422-BABY.