Volunteers are welcome at the Solano County Parks.  Come share your talents with us! 
Volunteer Docents 
lead guided tours and nature walks, help with exhibits and special park improvement projects. Docents will receive training as interpreters at Lake Solano County Park, the Lake Solano Nature Center, and Lynch Canyon Open Space.  
Camp Hosts
 are live-in volunteers at our two campgrounds at Lake Solano County Park (Winters) and Sandy Beach County Park (Rio Vista). 
Park Volunteers
 can help out at special park events (such as the Lynch Canyon Trail Run or Kite Festival) and one-day park improvement projects such as native plant restoration work and shoreline clean-up during the Annual California Coastal Cleanup Day in September each year.  
Who Do I Contact?
  To volunteer at Lake Solano Park, contact our partners at the 
Putah Creek Council
 in Winters, who run the
Lake Solano Docent Program
, at (530) 795-3006.  To volunteer at 
Lynch Canyon Open Space Park
, call our partners at the Solano Land Trust, at (707) 432-0150, extension 200 or email 
[email protected]
.  To apply to be a Camp Host, contact our Ranger Staff (Sandy Beach Park @ 707-374-2097; Lake Solano Park @ 530-795-2990).  
Volunteer Training
Training is offered for our volunteer docents who will lead tours and classes at Lake Solano Park and Lynch Canyon. Training includes information on local wildlife, plants, water resources, and local pioneer and Native American history, as well as safety and emergency procedures on the trail.  New docents can also tag along with more experienced volunteers to learn how.  Our Volunteer Coordinators (see contact information above) can tell you more.  They will work with volunteers to develop opportunities that meet your interests and skills.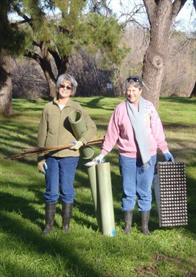 Volunteer Work Parties
---
Volunteer work parties help us to enhance, protect and improve the parks through maintenance and restoration projects.  Projects include planting native plants, upkeep and building of the trails, and enhancement of streamside vegetation to improve the site for wildlife and park visitors. Bring work gloves and be prepared to get dirty.
Check the 
County Parks Events Calendar 
to find out about upcoming work parties for your or a volunteer team, or contact our Volunteer Coordinators.  For information on work parties at Lynch Canyon Open Space Park, call (707) 432-0150, extension 200 or
[email protected]
.  For work parties at Lake Solano County Park, call the Putah Creek Council at (530) 795-3006, or the County Park Rangers at (530) 795-2990.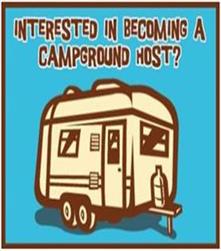 Camp Host
Camp Hosts are often thought of as the "eyes and ears"
of campgrounds. They provide rangers with information
regarding maintenance issues, visitor use, wildlife sightings,
and safety concerns, but do not take direct
action involving law enforcement situations. Camp
Hosts may staff ranger stations, assist with upkeep
of campgrounds, assist campers with the selection of
campsites, as well as camp ground registration
and fee payment. Camp Hosts live on site in the
campground and can volunteer services for either a
three-month or six-month period as approved by the
Park Ranger Supervisor. Camp Hosts provide their own
recreational vehicle or travel trailer to connect to the
Camp Host space where electricity, water and sewage
connections are provided.If you or someone you know is
interested in becoming a Camp Host, don't hesitate to ask
the ranger for a Camp Host application while in the park
or download the application here, fill it out and mail
it to the park you are interested in hosting at.