Customer Satisfaction Survey Link: https://solanocounty.az1.qualtrics.com/jfe/form/SV_0rD8V1nquCZVtky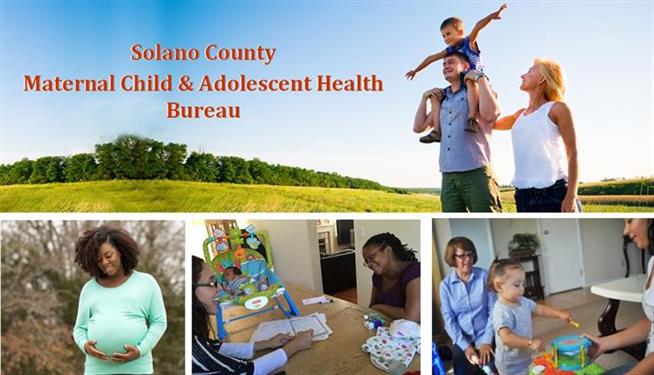 You will need Adobe Acrobat Reader to view these files:
Download the Maternal, Child and Adolescent Health Needs Assessment Report 2020-2024 

Vision Statement

All women, infants, children, adolescents and families in Solano County will receive appropriate, quality, comprehensive health and social services that promote wellness and prevent disease, injury, and violence. This will result in healthy, responsible, and productive individuals and families.


Mission Statement

The Maternal, Child and Adolescent Health (MCAH) Bureau of the Solano County Health and Social Services Department will assess, develop, preserve, and improve access and services for women, infants, children adolescents, and families in our communities. The Bureau promotes wellness and prevents disease, injury, and violence through advocacy, outreach, resource development, education, and collaboration with Department and community partners. The Bureau embraces the public health principles of assessments, assurance, and policy development.


Goals 

• Ensure that all children are born with optimal health outcomes to healthy mothers
• Reduce health status disparities among racial, gender, economic and regional groups
• Provide a safe and healthy environment for women, children and families
• Provide equal access for all women, children and their families and link them to appropriate care 

Programs

Prenatal Programs |  Public Health Nursing  |  Specialty Programs

Prenatal & Parenting Support Programs 

BabyFirst Solano / Prenatal Care Guidance (BFS/PCG)
BFS/PCG provides guidance to women who are pregnant or think they are pregnant by helping them with finding medical providers, linking them to health insurance coverage, and accessing early and regular prenatal care to improve their pregnancy outcomes. 

Black Infant Health (BIH)
The Black Infant Health (BIH) program aims to improve health among African-American mothers and babies by empowering pregnant and mothering African-American women to make healthy choices for a brighter future.

Healthy Families Solano (HFS)
HFS is a national evidence-based program that provides home visiting services during pregnancy and up to 3 years after the birth of the baby. HFS aims to promote positive parenting and child health and development by building protective factors to enhance family functioning.

Nurse-Family Partnership (NFP)
NFP provides regular nurse home visits to first time pregnant moms from pregnancy and up to the baby's 2nd birthday. The nurses deliver the support that moms need to have a healthy pregnancy, become knowledgeable and responsible parents, and provide their babies with the best possible start in life. 


Public Health Nursing

Community Nursing IMPACT Program
Public Health Nurses (PHN) provide nurse home visits to Solano County residents of all ages, with a primary focus on mother-and-child visits. Nurses provide care during pregnancy and the postpartum period, in addition to assisting with breastfeeding, infant attachment, and child development.


Specialty Programs

Child Health Disability Prevention Program (CHDP)
CHDP is a preventative health program that serves children and youth by making early health care available to those who have unmet health needs. Uninsured children can get their CHDP exam and may be enrolled into temporary Medi-Cal.

California Children's Services (CCS)
CCS is a state program that helps children with certain diseases, physical limitations or chronic health problems.

Childhood Lead Poisoning Prevention Program (CLPPP)
At CLPPP, Public Health Nurses offer education, screening, diagnosis and case management of lead poisoning in children and young adults, from birth up to 21 years old.

Sudden Infant Death Syndrome (SIDS) Program
The SIDS Program provides the support and bereavement services of Public Health Nurse Home Visitors to families grieving the death of an infant less than 1 year of age due to a sudden and unexpected loss of an infant. 

Fetal Infant Mortality Review (FIMR)
FIMR is a community-based program that reviews the contributing factors to fetal and infant deaths. The program identifies the necessary actions to prevent these deaths, thus improving health services for women, infants and families in Solano County.
 
For assistance in finding resources for pregnant mothers, babies and families in Solano County,

please call our MCAH Toll-Free Line at 1-877-680-2229 (BABY)
or fax an MCAH Referral Form to 707-784-2229 (BABY)